Appliance Buddy – Easily Move Appliances Without Damaging Your Floor
Appliance Buddy is a simple-to-use appliance and furniture moving tool.

It is a professional-grade slider mat made of a unique impact and scratch resistant, high-grade plastic that is designed to protect your delicate flooring and glide easy enough to be used by just about anyone.

The Appliance Buddy works great for a wide range of appliances such as washing machines, dryers, refrigerators, freezers, stoves, and more. Plus, it can also be used for moving certain types of furniture such as chairs, entertainment centers, and all types of large household items on tile or hardwood floors.

We even have some customers who use it for moving heavy boxes across the house from room to room, safes, HVAC units, toolboxes, etc. The possibilities are nearly endless.

BY YOURSELF WITH NO HELP? The Appliance Buddy heavy-duty, large slider mat is perfect for sliding appliances, heavy furniture, ovens, dishwashers, stoves, washers, dryers, safes, large boxes, HVAC units, toolboxes, etc.

PROTECTS FLOORS: Protect hardwood, tile or vinyl floors against scratches, gouges, tears, roller marks, or scuffs that can occur when sliding or moving large appliances or furniture.

LARGE OPEN PULL HANDLE: Move large objects with ease, even with a glove on.

MOUNTING HOLES: Are located on each corner allow for easy hanging storage when not in use.

MULTIPLE USES: Great for spring cleaners, home owners, repair professionals, custodians, maintenance personnel, movers, home delivery, etc.

We are a small, family business based in the USA. We take pride in providing simple solutions for everyday problems. Thank you for your support!
Instructions
Be sure to first clean the floor and the surface of the Appliance Buddy before using, which will help prevent any debris from getting between the floor and sliding surface.

Simply place the Appliance Buddy in front of the appliance you intend to move, slide it underneath the appliance, position the appliance so that all four corners are on the Appliance Buddy and then pull the Appliance Buddy to slide the appliance where you need it to go.

Glides easy and makes moving appliances a breeze without the fear of damaging your floors.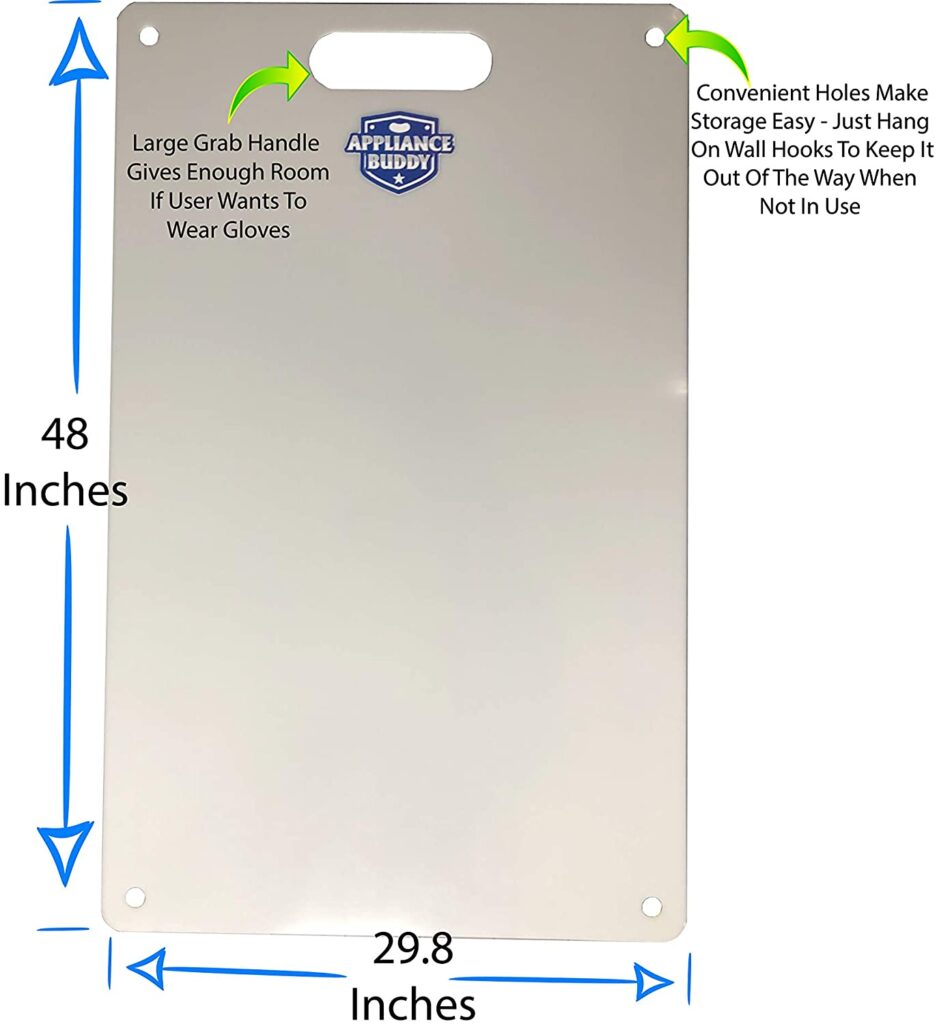 Start Easily Moving Appliances Without Damaging Your Floor